Welcome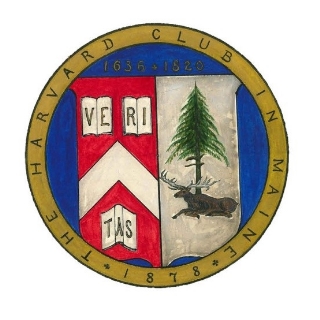 Welcome to the new website of the Harvard Club in Maine! We are one of the oldest Harvard alumni clubs, founded in 1878 (as you can see from our hand-painted insignia to the right). Today we are a thriving small club. We have a large, active board which meets regularly. We organize five annual events from social parties, to seasonal outdoor adventures, to The Game, of course! We participate in local/global networking events, as well. We draw an ever-increasing group of alums, from those who graduated in the 1950s to recent graduates, from many different schools. We have many alums in our beautiful and increasingly diverse state of Maine, and many more who visit us in the summer. We warmly welcome you to contact us if you are a Harvard alum and reside in or visit the state. And we hope to see you at one of our events!
FEATURED

5:00PM - 7:00PM Sun 16 Dec 2018

You are warmly invited to join us for a wonderful evening of food and fellowship at the Cumberland Club (116 High Street, Portland). $45 members/$50 non-members (current students free). Generous hors d'oeuvres and a cash bar.

FEATURED

12:00PM - 3:00PM Sat 17 Nov 2018

Please join fellow alums and Yale Club of Western Maine members at Rivalries (10 Cotton Street, Portland). Free admission and hors d'oeuvres (donations appreciated!), cash bar. Children and non-Harvard friends welcome. (Click link for more info.)

FEATURED

4:00PM - 7:00PM Sat 3 Nov 2018

Please join us for a presentation by Michael Brenner, Glover Professor of Applied Mathematics and Applied Physics and Harvard College Professor, on "Science & Cooking: From Haute Cuisine to Soft Matter Science."